SKILLCIRCUIT eLIBRARY & ONLINE LEARNING MODULES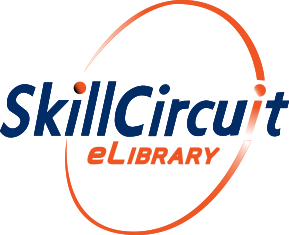 When it comes to building your manufacturing and maintenance teams' capacity and competency, the answer is no longer hands-on or computer based training. It is both.
Our SkillCircuit eLibrary is loaded with more than 700 modules, all built by industry professionals to meet your training needs. You get the entire library with your subscription, which means you get to choose both which modules you need, and when to give them to your teams. Combine with our hands-on training or use alone. No more one-size fits all.
It is like nothing you have seen before. Each module is created to deliver a discrete skill, online…24/7. Build your team's skillset one competency at a time. Here is what you will not find: boring videos, passive reading, and endless lectures. Our idea of online learning involves photo-realistic illustrations, animations, and simulations that immerse you in the subject and help ensure that your workers achieve mastery. Watch the video below for more information:
---
Online Learning Modules
These learning options are a comprehensive library of stand-alone modules. Choose a category below to see how you can build individual learning paths to increase your team's skillset, then give us a call to discuss your custom set-up plan.
Soft Skills
Communications
Lean Manufacturing
Logistics
Manufacturing
Quality Assurance
Six Sigma
Time Management
Team Building
Basic Skills
Cutting Tools
Fasteners
Hand Tools
Materials
Math
Measurement Tools
Power Tools
Hard Skills
Manufacturing & Industrial Automation
CNC Machining
Electrical
Engineering Drawings
Hydraulics
Pneumatics
Programmable Logic Controllers (PLC)
Robotics
Safety
The Value of SkillCircuit E-Library
Skill building tools to help you when you are not in the classroom. These supplemental refreshers help strengthen and build on what you have learned.
Deeper Learning: Continued education through the Supplemental Training Library fosters knowledge retention and improves productivity.
Self-Paced: Modules allow employees to take the program at an appropriate pace for their learning ability and avoid downtime during production hours.
Flexibility: The Supplemental Training Library has the ability to be implemented within your existing training through a variety of options.
---
For information about how you can implement online development and skill building into your Electrical Safety training, call (800) 922-2820 or Contact NTT Training today!